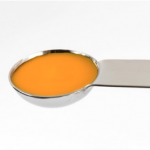 I buy my liposomal CoQ10 in the form of ubiquinone from a company I've grown to trust – Seeking Health. I take 200mg/day. My ME/CFS healthcare provider prescribes that I take this amount for ME/CFS.
It's an antioxidant that our bodies make naturally. It is thought that there are some genetic predispositions that cause some people to make less and it is known to decrease in our bodies as we age. CoQ10 is involved in the process of making ATP which is a form of energy that our bodies need for many important functions, including healthy metabolism, bone health & neurological and muscular function. As an antioxidant, it protects our cells from the effects of free radicals which tend to rise with inflammation. As we know, ME/CFS, involves a heightened inflammatory response.
Click here for a great overview of CoQ10 from Oregon State University: http://lpi.oregonstate.edu/mic/dietary-factors/coenzyme-Q10 
I take CoQ10 in the liposomal form because it is more quickly available as it is absorbed through oral membranes as well as the digestive system.